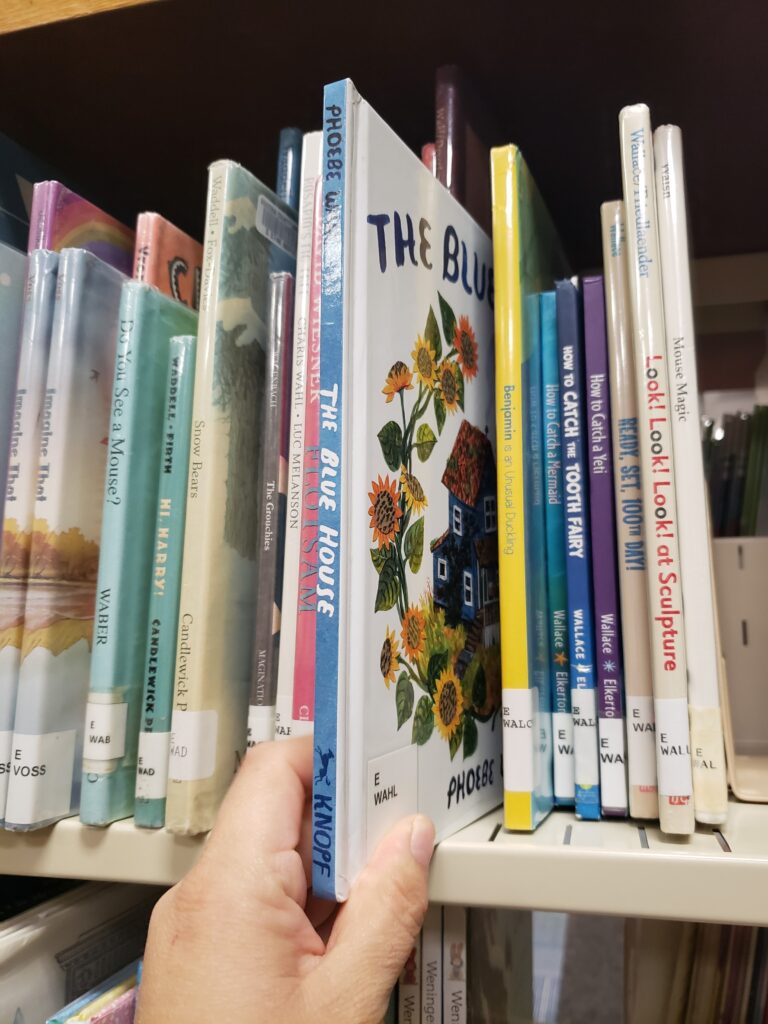 Homeschool Picture Books (Series)
I love picture books for all ages and there is a ton of good ones! homeschool picture books that come in a "series" are the books that keep on giving though. So I want to share our favorite Non fiction picture book series, these are literally a pot of gold. I wont go into why I love Picture books so much in this post though.
Many people think picture books are only for little kids but I disagree. Good picture books add a visual to the story being told. This can help to really make an imprint. Some of these books are introducing completely new concepts that the children have never encountered. The pictures help the child to not only think about and see this new concept in their minds but to have the correct image of it. Picture books are truly so powerful.
When I first read these books I was legitimately amazed at how much information was squeezed into these picture books! The series is about the sun supporting all life on earth and HOW! Each book goes into a different process on earth that begins with the sun and be how it supports life.
The first book I found was "Living Sunlight". This book goes into how the sun gives life through photosynthesis and how photosynthesis connects all life on earth. The book speaks as if the sun is telling the story. The artwork, like all the books, is captivating. It will entice questions from little ones even if they don't understand all the words.
The first 3 books in this series I would say are for little ones, in the 4-8 range. The last 2 are more detailed with lots of information. The age range I saw on these 2 books was 7-12+ but I have to say I really enjoyed these books even as an adult.
My Light (This one isn't listed on the series website and is written by Molly Bang alone but I think it's still worthy of being listed)
Living Sunlight How Plants Bring the Earth to Life
Ocean Sunlight How Tiny Plants Feed the Sea
Buried Sunlight How Fossil Fuels Have Changed the earth
Rivers of Sunlight How the Sun Moves Water Around the Earth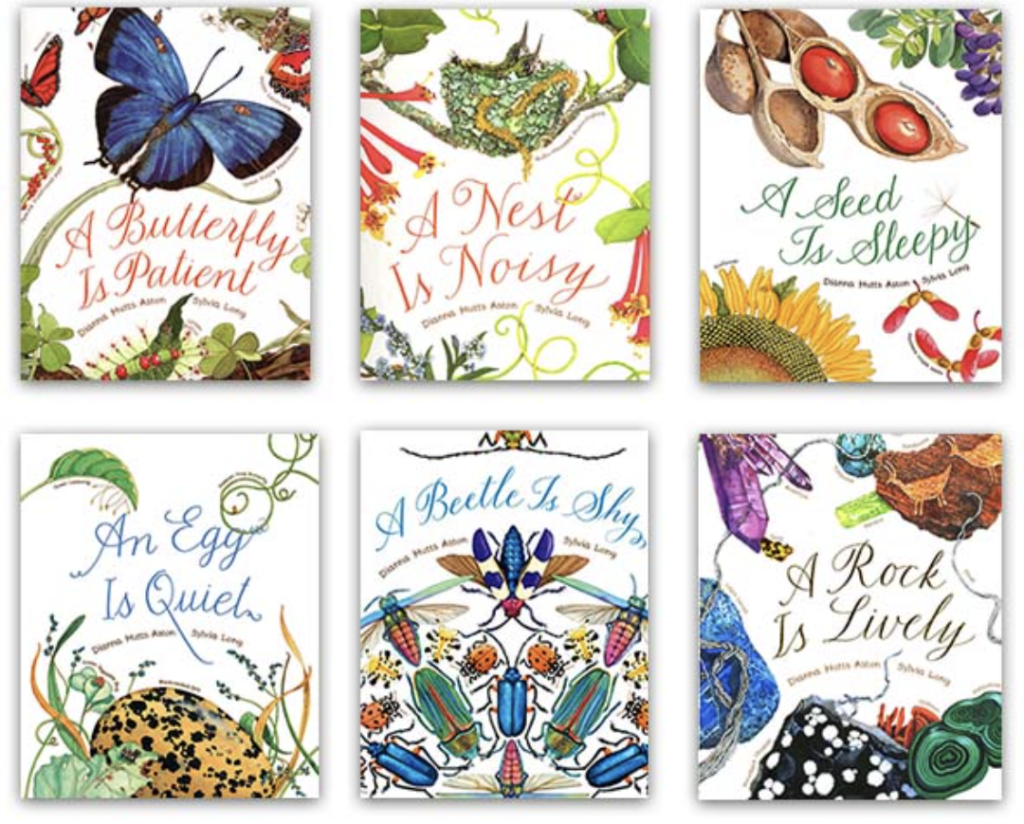 I first found a book in this series at my last job as I was leisurely shelving the books on the library shelves. I opened the book "A Rock is Lively" and was captivated by the artwork. All of these books are geared toward the younger crowd. The artwork though is the star of these works. They will definitely work in the space in your home library. Here are all the books in the series
A Butterfly is Patient
An Egg is Quiet
A Nest is Noisy
A Rock is Lively
A Seed is Sleepy
These books are not technically a series but this author touches on such important subjects in such a great way. The author is Mexican American and his books all cover a similar topic, the latino experience in subjects such as equality and simply non fiction events in history. These important subjects are covered in a way children understand and is a great way to introduce these things. The art work in the books is different from most as it is inspired by pre-columbian art.
I have only personally read two books in this series but I hope to read all of them soon. I will list a few below:
Separate is Never Equal: Sylvia Melendez and Her Family's Fight
Dear Primo: A letter to My Cousin
Undocumented
A Child of the Flower Song People
…and many more.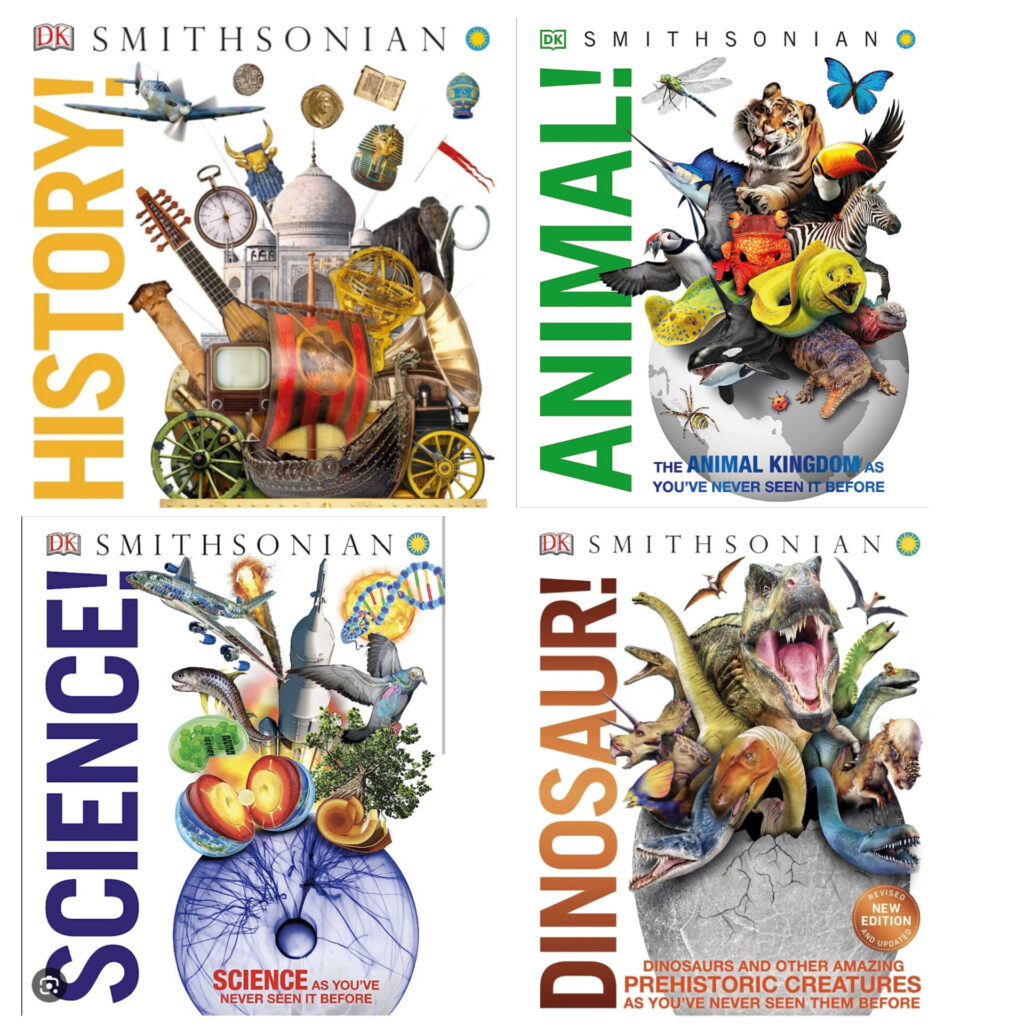 These books are encyclopedia style books. I was quite surprised at these books because In our experience encyclopedia type books were way too overwhelming, or unorganized in their layout for us to enjoy. But these DK Smithsonians hits just the right balance of information, visual interest and organization.
DK has done a wonderful job with these. They can be used stand alone or just as resource. I would say these books are good for ALL ages! Starting with littles ones, the pictures are captivating. All the way up to an adult because I myself enjoyed and learned things from these books. They come in seemingly every subject as well.
Dinosaurs!
Science!
History!
Animal!
Earth!
Space!
Knowledge
There are a few popular biography series for kids. This is the only series I like. These little books are information while getting straight to the point, not too much fluff like others. The illustrations are more cartoony so in turn are not exactly accurate but we still enjoyed them as a family. They held my kids attention and kept them interested.
I appreciate that these books were short enough to read over and over. Usually these non fiction subjects are fleeting in the younger years. With this book series you can re-read them over and over. Here a few of the people they cover:
Amelia Earhart
Neil Armstrong
Mozart
Michelle Obama
Frida Kahlo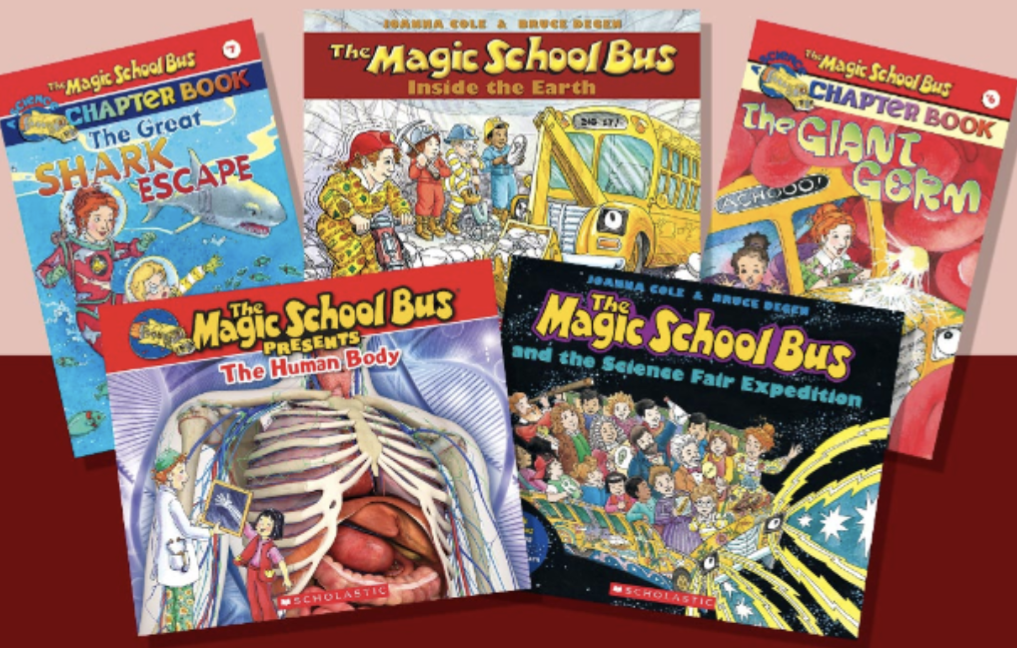 Just like the TV series the Magic school bus books are amazingly informative while captivating the kiddos attention.
Like the show alot of these focus on science but the book series is special as it goes into history stories and more. The books are one in their own. You won't always find a TV show to match each book, which is kind of awesome that we get even more than the show offers.
Magic school bus books remind me of a graphic novel layout. They take the reader on an adventure right in their own home. I love that the characters are a constant in all the books ( and the show) because it feels like your going on an adventure with a friend.
The Human Body
Inside the Earth
Sees Stars
Kicks Up a Storm
ect.